When I first started working in the SEO industry, my initial impression was that Google Webmaster Tools is inferior to Google Analytics in many ways, mainly because it has less features. The obvious features that it offers – finding broken pages, duplicate content, manual actions, and index status are all crucial to a site. But in terms of analytics , it seemed that WMT was a bit overlooked (this could have something to do with analytics being in its partner's name).
Maybe it's because I have a soft spot for underdogs, but I eventually decided to poke around a bit and see if I could discover any hidden analytical value in WMT. I soon discovered a few features that can really help us marketers analyze more effectively for our clients:
Content Keywords Can Help
To start, you must enter with the frame of mind that Webmaster Tools represents how Google views your site. 
On the surface, Content Keywords seem to offer a great window into a site and what the site represents in Google's eyes. It lists the keywords used on your site in order of the amount of times they are used, as well as the 'top' URL's that have mentioned those keywords. Let's say you have a website that sells black shoes. By checking Content Keywords, you would expect to see keywords which relate to black shoes at the forefront of the list.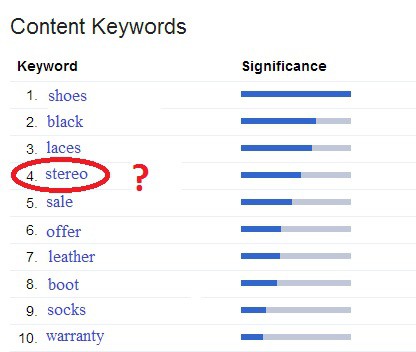 As a webmaster, one would hope to see relevant keywords at the top of their Content Keywords list, because that would imply that one's site is focused on relevant content and not extraneous jibber jabber. It is possible, however, to have a seemingly irrelevant keyword appear on this list.  This could certainly make a webmaster antsy about what Google really thinks their site is about, and in this case, it would be prudent to go back over some of the content of your site. In response to this potential confusion, I refer you to John Mueller's clarification of content keywords in a Google Webmaster Help thread that was brought to light by Barry Schwartz over at Search Engine Roundtable:
The keywords shown in Webmaster Tools are based on the keywords we find when we crawl your pages. They are not representative of how we view your site's relevance in web-search, it is purely a count of words from crawling (so if you see some words there which are common on your pages but which you find irrelevant, I wouldn't worry about it).
The obvious takeaway from this is that although Content Keywords don't reflect Google's understanding of your site, they can still act as a guide to give you an overall pulse of your site's content: are you hitting your target keywords enough? Are there keywords which don't reflect your site's identity that appear on top of the list? This list is good for knowing where you need to focus. Look at it as less of a judgment from Google, and more as a guide to webmasters about their site's identity. And if you want to quickly gauge the identity of a specific page that contains a ton of content, you can copy and paste all of the page's text and toss it into Wordle.net and get a pretty quick feel: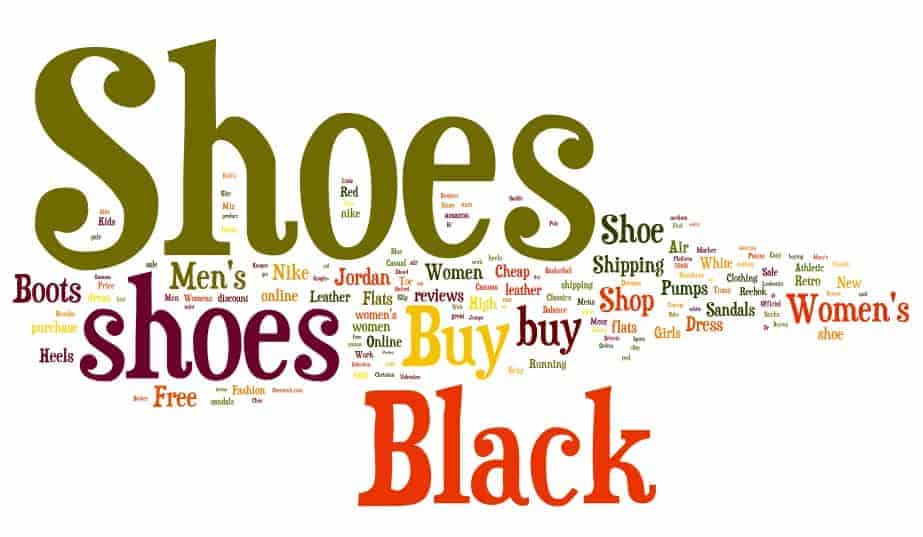 Discover Your CTR Very Quickly
If you look under Search Queries, you will immediately see what keywords you are ranking for. This is a great way to find keyword opportunities to capitalize on. If a keyword has a high amount of impressions, then a webmaster has what to be pleased about – but that's only half the battle. A high search ranking is great, but impressions are worthless without clicks. That is why a webmaster should keep an eye out for any keyword which receives a high amount of impressions but a low amount of clicks.
If that is the case, a webmaster needs to quickly hone in on why their click-through-rate is low. Obvious solutions are fixing up the meta descriptions, and making them more appetizing and attractive to searchers who are clearly seeing your website in SERPS, but are choosing not to click. If you need some inspiration, Neil Patel has a solid breakdown on how to revise your meta descriptions in order to maintain a competitive edge.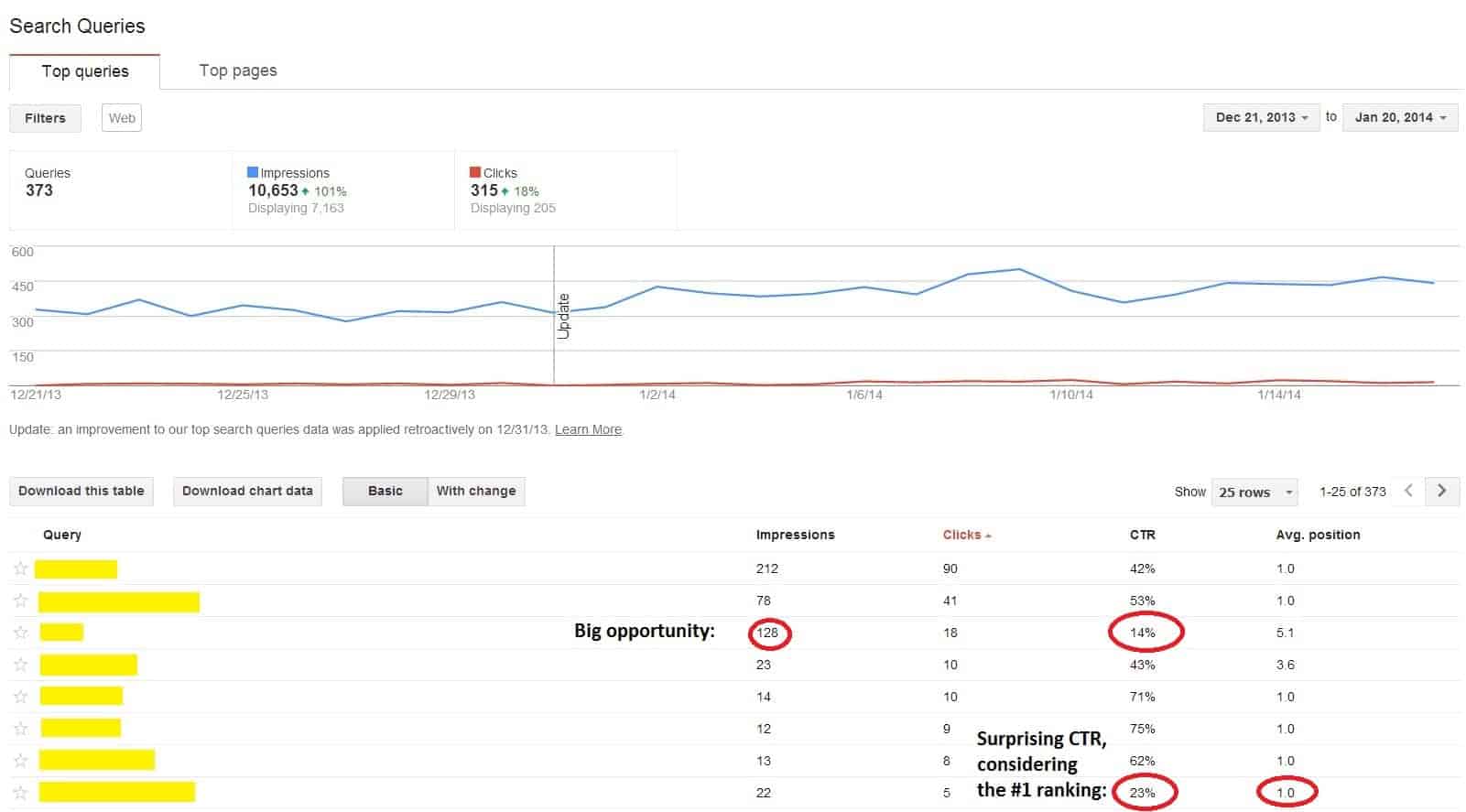 Capitalize On Your Top Pages
In addition to Search Queries, you can view your website's top pages. I found that the value in Top Pages is that it sharpens what you already saw in Search Queries. In Search Queries, you were able to see keywords and where you may have ranked, as well as CTR for keywords. For Top Pages, however, you can see your CTR for individual pages, which tells you exactly which pages of yours need revised meta descriptions. You can also try tinkering with your title tags, but do so very carefully- after all, you did rank, and any title tag change can alter your ranking.  The real opportunity to coax a user to click on your site without affecting ranking lies in the meta description.
Now What?
Now that you have identified which pages are weak, you have a great opportunity for some competitive analysis. Let's say, using the example above, that you only got 5 clicks from 22 impressions for a search query that ranks number 1. Considering that according to at least one click thru study, 33% of users will click on the first result, 22 impressions for a #1 ranking deserves between 7 and 8 clicks. So if you deserve 7.5 clicks but only got 5, you are receiving 33% less clicks than the norm (though obviously, this is a very small sample size). That's a huge amount, especially if you scale this to hundreds or even thousands of clicks.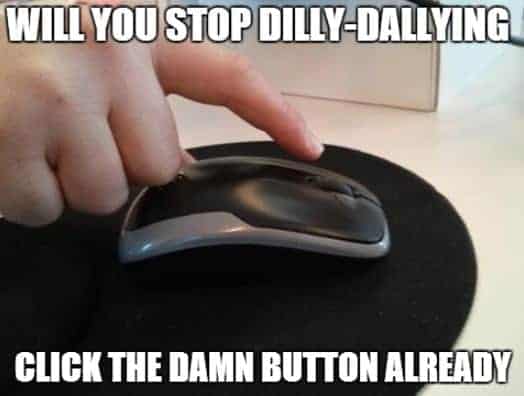 So, how can you repair this rather poor CTR? I'm glad you asked!
Big Opportunity for Competitive Analysis
If you are ranking #1 for a search query, but you are not getting as many clicks as you deserve, then where are those clicks going? Unfortunately, they are going to the people that you least want to get them: your competitors.
There is nothing worse than getting an impression for a search query that you worked so hard to rank for, but it is not being clicked on, and you ultimately miss out on free traffic that was there for the taking. So, if you are losing clicks to a competitor, then why not take a look at what your competitor is doing differently? The obvious practice would be to check out what their meta descriptions are like, and see if they are using a more attractive style or method that you can use as well. But if you want to go deeper (and you probably should if you aren't ranking as high) you should do a full scale competitive analysis, and analyze your competitor's keyword data. I've used SEMRush for this, and a great breakdown for it can be read here. Also, you can check out Moz's keyword difficulty tool for some expanded analysis.
Google Webmaster Tools' Role
While Google Webmaster Tools is certainly not a replacement for some of the deep level analytics that Google Analytics allows for, it should definitely not be scoffed at. WMT offers a fair amount of both resources and opportunity for a webmaster, and allows for a visually simplistic method of maintaining, improving, and ultimately monitoring and analyzing the growth of one's website.