This is part 7 of our 8 SEO Gifts for Chanukah series breaking down some basics of Search Engine Optimization.
Content is King? Really? We're going to talk about THAT? AGAIN?!
See, this phrase has been around almost as long as my now-debunked GeoCities account (that's right, Geocities, woot!). But I have to be honest: The word "content" has become dead to me.
'Content' is usually pitched as a strategy, one that I'm guilty of implementing as well. A few months ago I ran with an idea to publish 50 blog posts in 25 days. The campaign won in the sense that it motivated consistent creative contribution (CCC for short), but missed the mark in terms of its potential to be spectacular. I was too focused on the "what" and not enough on the "why".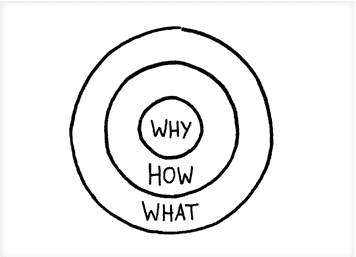 'Content' has become another term thrown around the digital marketing world by professionals who really want to sound 'hip' and 'in-the-know' about what gets conversions, what drives traffic, what generates page views, and so on. See, I threw in a few more industry terms just to make you feel at home.
But we're not at home. Not anymore.
The internet has changed dramatically in the past few years. It's a much noisier place than it was back in the good ol' days of AltaVista (circa half a decade before Napster to put that in context). So WHY are we still obsessed with content when it's clear that we've reached a such a monumental point of ultra saturation?
I'll tell you why.
We say "content" when what we really mean is "awesome shiznat!" For the laymen in the room, that means something riveting, something valuable, something funny — something to make people communicate and talk about what it is you want them to see, hear, touch, taste, or smell!
We're talking about assets. Creative, informational assets
See below, the first and foremost definition under the word 'asset' in Merriam-Webster:

Although it's fairly general, this definition gives way to a more dynamic, exciting conversation about our work on the web with inbound marketing and SEO. 'Asset' infers from the get-go that value is intrinsic, that it's focused on the "why," whereas 'content' only requires that there is substance.
You feel me?
Check out Guy Kawasaki's response to the recent infographic published by Search Engine Journal and Backlink about Google's 200 Ranking Factors (see they "got a link"):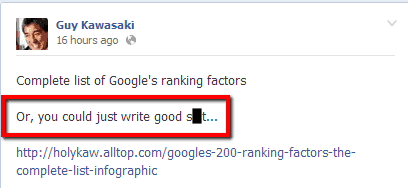 So what might an asset look like and how can I use it to help my clients? Great question!
Assets can take on many forms and engage varying degrees of sense and emotion. A visual asset could be something as simple as changing a company logo on a homepage or social media channels to align with seasonal trends. For an example, check out what these companies did for Movember: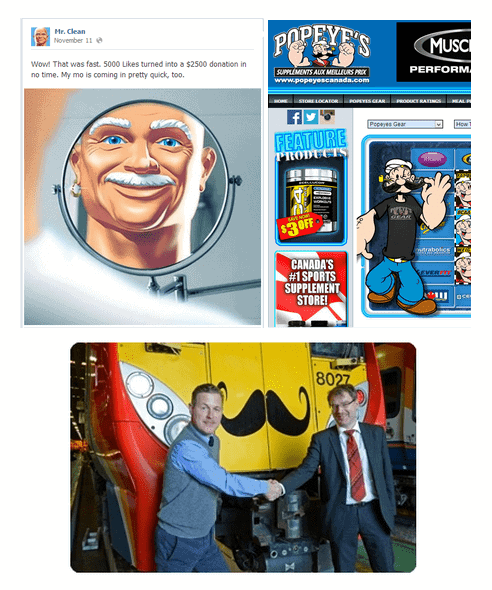 South West Trains went so far as the stache up their physical infrastructure! And you know what? My #Movember feed in TweetDeck was populated with an astronomical number of photographs of people riding on or simply passing by South West Trains in the UK!
Take it a step further and publish an article on a site like BuzzFeed or a company blog that compiles "10 Brands That Will Win Your Heart This Movember." Share it with the featured brands in hopes that they'll share it with their fans. Sounds better than writing a random article about cleaning kitchen floors and trying to get it published on Mashable, right?
Use Google Trends. See what people are talking about RIGHT NOW! Go do something with that information! Please, for the love of G-d! Hang an extra monitor on your office wall and keep a current trends ticker going. Or split the real estate and keep TweetDeck open on the second half of the monitor with a specific seasonal hashtag feed going. Make your life easy. Don't reinvent the wheel. People are openly telling us what they're talking about. We have been supplied with public social stock tickers. All we need to do is find a valuable way to contribute to the conversation.
This all sounds great, but so what? How do I justify these efforts to a client? How does this all tie into SEO?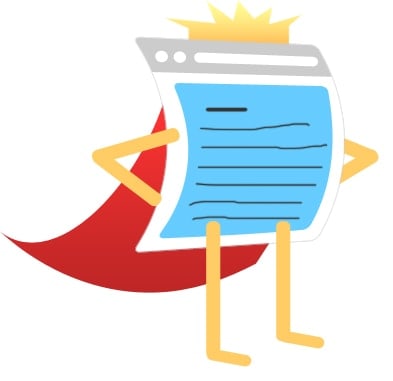 You see, assets are valuable and sharable by nature. Valuable and sharable entities on the web generally garner mentions on external websites. And we all know that mentions on external websites can generally include a link back to the source or article that mentioned the great-asset-creator. Depending on the quality and distribution of an asset, this could give way to a significant number of links. This in turn beefs up a site's backlink profile, sending strong signals to the search engines regarding general site strength, trust, and relevancy, helping it rank better, especially for niche-related queries. Higher rankings gives way to increased click through rates (CTR) in the search engine results pages (SERP) which gives way to more site traffic which give way to increased conversions (even if the conversion rate stays the same!) which results in more profit which makes clients happy 🙂
But that's just the "what." Keep your eyes on the "why" and you'll be golden. It might take time, but it's worth it.
So why is content king? Why are we still having this conversation? Because it's more crucial than ever to really understand what this really means. The future of our work depends on it.
You feel me?
Useful entities mentioned in this article:
Google Trends presents real time search trends from around the world.
TweetDeck is a great tool to use for following specific trends through hashtags in real time conversation.