It's hard to believe that it's been almost a year since last year's awesome KahenaCon.  But alas, here we stand with just under one week left until KahenaCon 2014!
If you've got questions, you can find all of the details at KahenaCon.com.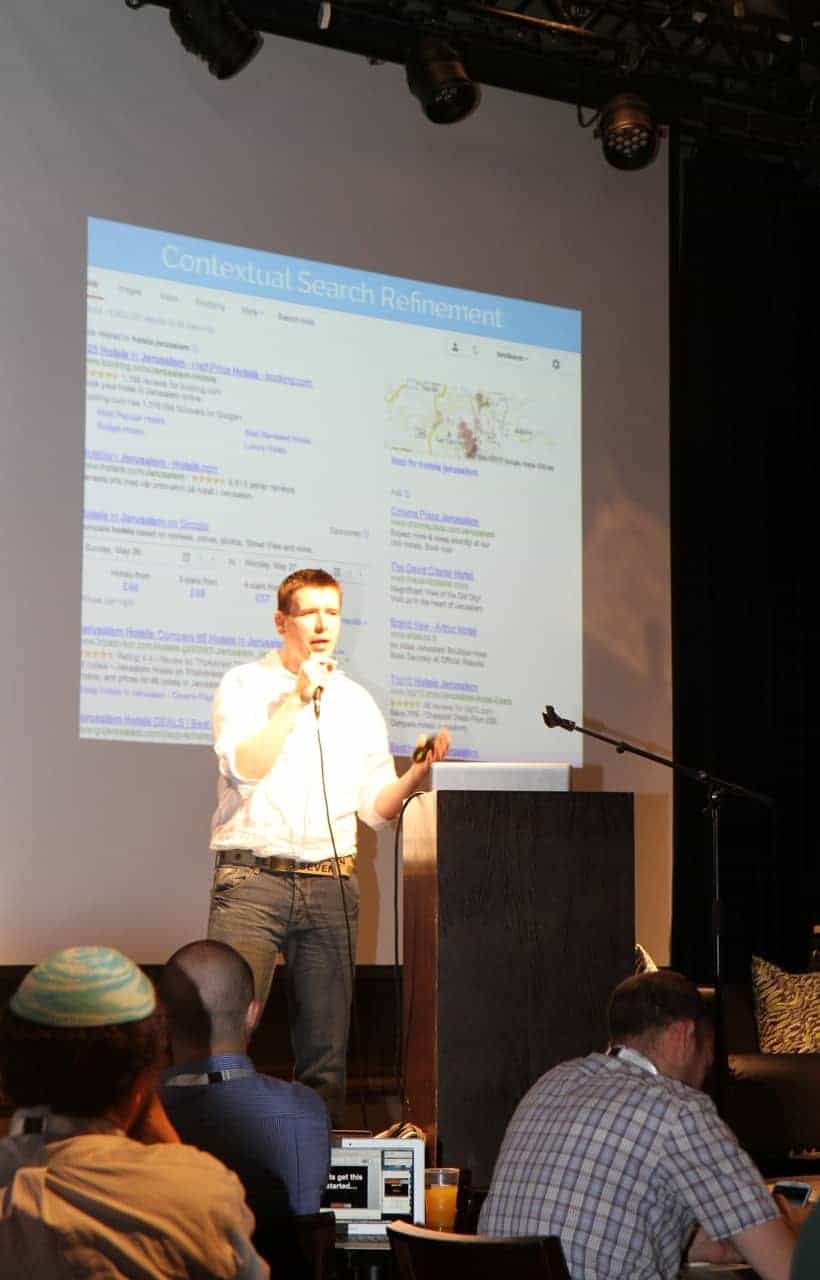 As a quick review, here are the important points:
What

: Israel's premier inbound marketing conference covering SEO, Performance Marketing, Social Media, Content Marketing, & more!

Why

: Some of the most talented and knowledgeable presenters from Israel & abroad come together to share their pearls of wisdom with Israeli professionals.

When

: May 18th, 2014 from 8 AM to 5 PM.

Where

: The JVP Media Quarter in Jerusalem – Zappa & JVP's beautiful courtyard
What's Changed?
For those of you who were lucky enough to attend last year's event, the format has changed slightly this year to make the conference better for all attendees.  As a reminder, last year's KahenaCon featured keynote addresses from Distilled's Tom Anthony and international SEO whiz Aleyda Solis along with shorter presentations from speakers on a variety of panels throughout the day.  This year, we took feedback from attendees that the keynote speakers were the real key to the conference, so we have a smaller group of more expert speakers giving longer presentations.
Bottom Line: A conference which already yielded hundreds of actionable insights is on pace to do even better in 2014!  Don't take my word for it – listen to last year's testimonials 🙂
[youtube=https://www.youtube.com/watch?v=sujtT5iNrHc&w=600&h=338&rel=0]
Join the KahenaCon Preview Google Hangout On Air
If you want to hear from the speakers what to expect from their presentations before buying your ticket, it's your lucky day! Kahena is running a Google Hangout with all the superstars the conference is going to offer on Tuesday, May 13 at 7:30 PM Israel Daylight Time – click here for more details.  If you can't make it live, the event will be recorded for later viewing, and we've even embedded the video for the hangout below 🙂
[youtube=https://www.youtube.com/watch?v=fbf-Hk_qyDo&w=600&h=338&rel=0]
The Headliners
So who are this year's showstoppers, you ask?  Excellent question! 🙂  We searched far and wide to find people who fulfilled the following criteria:
Senior members of top marketing agencies who are well known for their personal work and research on behalf of the world's biggest brands.
Living overseas is a plus because the Israeli audience may not have had exposure to their presentations in the past, but we're also proud Israelis who want to feature local superstars whenever possible 🙂
This search led us to the following US speakers: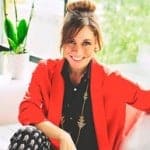 Joanna Lord: Formerly the VP of Growth at Moz, Joanna is currently the CMO of BigDoor, a loyalty marketing tech startup which was named one of the top places to work in Seattle.  She brings KahenaCon over a decade of experience in marketing strategy and revenue growth.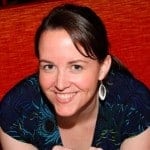 Kate Morris: Now a Principal Consultant in Distilled's Seattle office, Kate has worked in-house, for agencies, and has even run her own consultancy business in SEO and PPC.  In the past, she has spoken at all the big search marketing conferences, including PubCon, SearchLove, and SMX.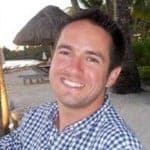 Adam Melson: A veteran Team Lead & SEO Associate at Philadelphia's SEER Interactive, Adam has worked with clients ranging in size from Fortune 25 companies to Mom & Pop shops.  He understands all the issues that face marketers due to his experience in direct mailings, distribution of marketing materials, and running PPC campaigns.
In addition, we couldn't forget about our countrymen: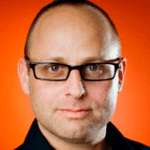 Gilad De Vries: Gilad is the Senior Vice President of Products, Marketing, & Strategy at Outbrain, a content discovery platform which helps Internet publishers increase web traffic to their websites.  Gilad has almost 20 years experience in digital media and technology stemming from stints at top tier venture capital firm Carmel Ventures and Comverse Technology.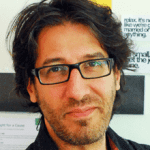 Eitan Chitayat: If you need help with branding and creative, Eitan is your man.  He is the founder of natie, a boutique global agency specializing in branding, animation, storytelling, and design.  Eitan has won tons of awards, and has lived and presented in major tech hubs such as Hong Kong, New York, & Boston.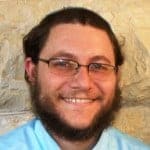 Yehoshau Coren: Yehoshua, founder of Analytics Ninja, is known far and wide for his expertise in Google Analytics.  Yehoshua doesn't need to do anything flashy, because his insights into tracking and using various forms of data to improve campaign performance are legendary.  This is one talk you won't want to miss if you hope to make a difference with your marketing.
Agenda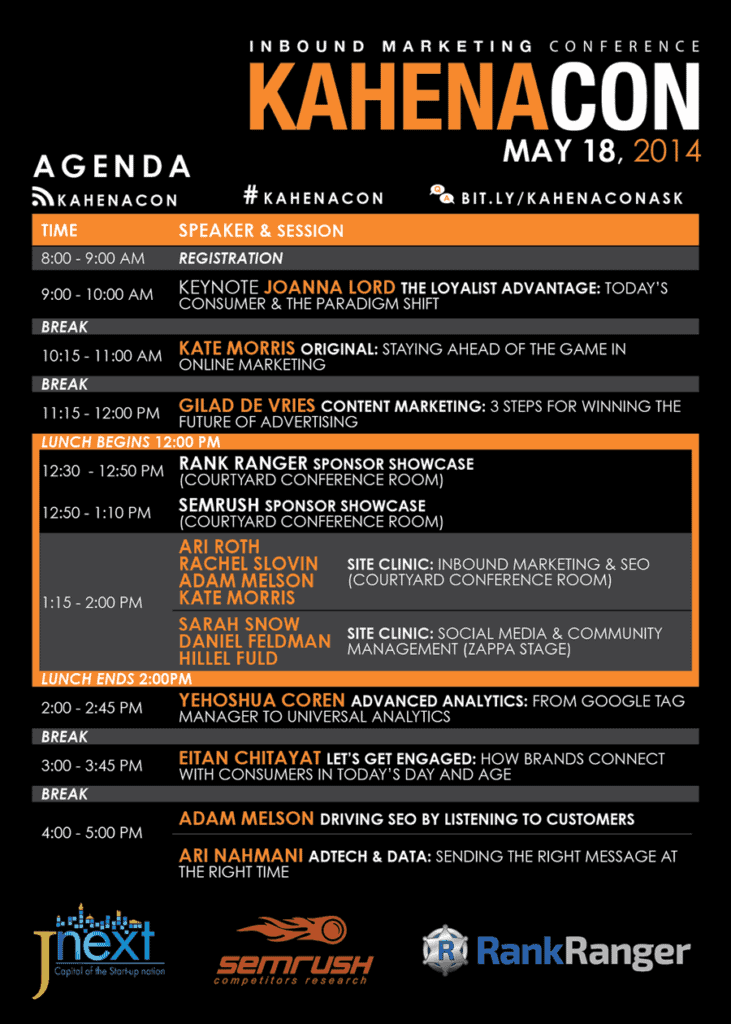 LinkedIn IRL (In Real Life)
Another piece of feedback we took to heart when planning this year's event was the emphasis on networking.  Of course, all of the superstar presenters will be taking Q&A as part of their presentations.  They'll also be walking around just like you and me, available to answer any questions you might have in an informal setting between sessions throughout the day.  But there's even a longer (2 hour) lunch in JVP's courtyard that's meant to allow everybody ample time with the speakers and other Israeli marketers you may not have met previously.
Live Site & Social Clinics
At the end of lunch, we have the usual array of awesome experts running breakout clinics on both the Zappa stage and in the JVP courtyard.  At Zappa, Zula's Hillel Fuld, Glide's Sarah Snow, and Waze's Daniel Feldman will be helping attendees with their social media and community management.  Up by JVP, two of our headliners, Adam Melson & Kate Morris will be joining myself and Rachel Slovin, Kahena's two senior account managers, to give you on-the-spot SEO tips and easy wins that can help boost your campaigns.
No matter what channel you're interested in, we've got someone for you to talk to so you can take what you learned and apply it to get you or your clients results!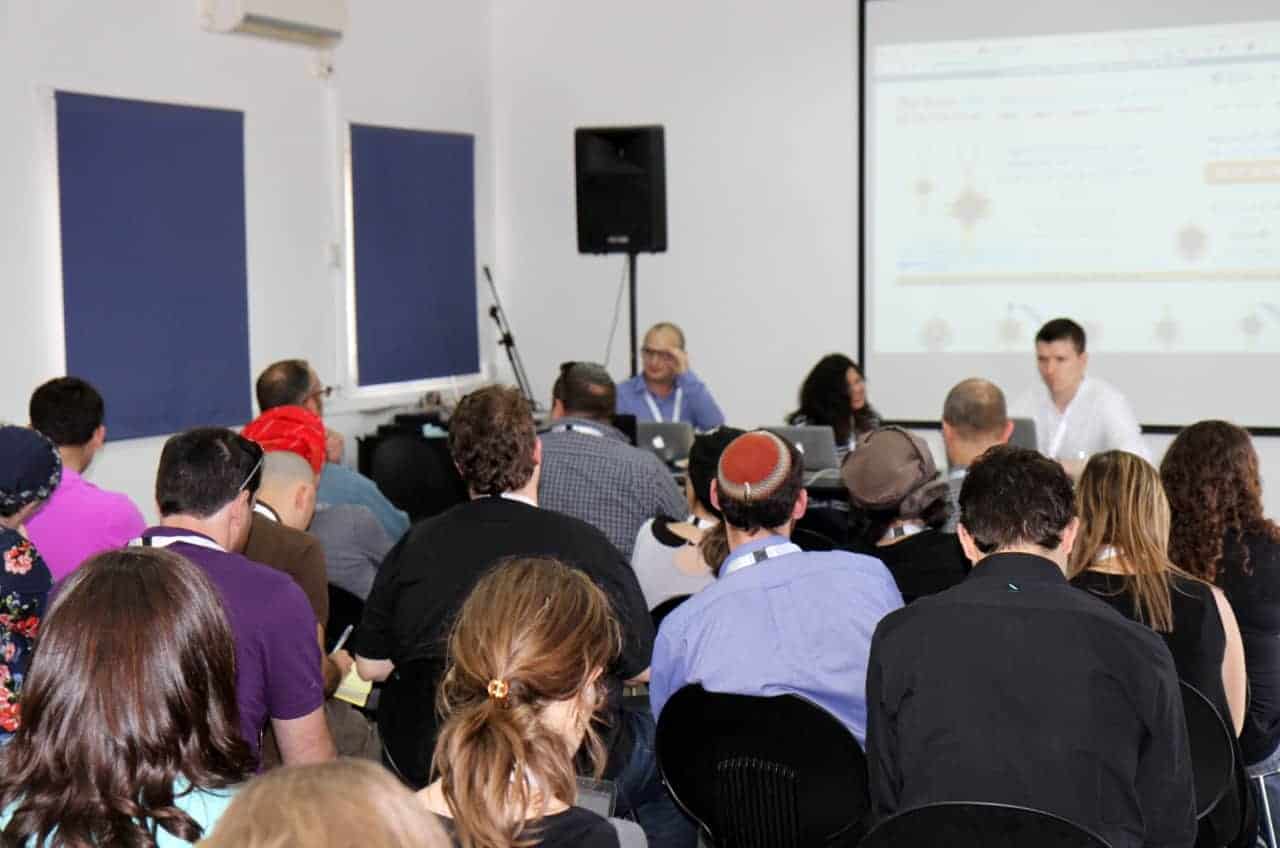 KahenaCon: Approachable Above All
I'm not exaggerating when I tell you that Israeli marketers will never have such an intimate environment to pick the brains of some of the best speakers the industry has to offer.  Larger conferences have hundreds of participants all itching to get one question answered by an expert, but personal time with the big boys and girls is the norm at Kahena as opposed to the exception.
In addition, every detail has been planned to make sure that you have the best possible experience.  So what are you waiting for?
Get Your Ticket Before It's Too Late!
There's only one place to do it – KahenaCon.com.
See you there!