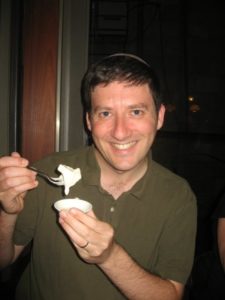 David Wiseman joins the growing Kahena team with a wealth of inbound marketing experience.  In the midst of his intense training, we took a minute to ask him a few personal questions.  While some of his answers were to be expected, some definitely came as a surprise.
What's it like being an Australian in Israel? Do you still retain some of that 'Ozzie Ozzie Ozzie' identity?
It's fantastic except when I'm confused for being American. Yes, I read the Australian papers every day and keep up with all of the news that is happening down under. I still eat Vegemite and at home we have the Wiggles running on a 24/7 loop.
When you first heard about Kahena, what did you think a "Kahena" was?
What's your favorite thing about working in Inbound Marketing / SEO?
Spending the whole day working on the computer. Apart from that, it's the ability to make the difference for a client. It's a great feeling to know that someone is receiving a tangible benefit out of the work we are doing for them.
Tell Us About Your Family.
I am married to Jerusalem Twitter royalty – @bydahway. I have two little girls – #TinyDiva and #LilDiva who two of the most amazing people I have ever met.
If you weren't working in SEO and you could be anything you wanted, what would you be?
I would be starting Chaser for the Gryffindor Quidditch team. It assumes a lot to think that the sorting hat would place me in Gryffindor, that I would be good enough to make the team and that I would be playing Chaser, but given the similarities between and Quidditch and Australian Football I think I would be able to give it a go.

Any favorite bands, TV shows, books, movies?
Bands – Beatles, Bon Jovi, Rolling Stones, Midnight Oil, Crowded House
TV shows – Breaking Bad, Mad Men, South Park, Glee
Books – Catch-22, Sex, Drugs and Cocoa-Puffs, Exodus, All Harry Potters except Part V
Movies – Usual Suspects, Casablanca, Shawshank Redemption, Raiders of the Lost Ark, Star Wars, A Few Good Men, The Sting
Favorite Glee Character
Puck
Is there a specific movie that you would say describes your life?
Wondrous Oblivion
What is the weirdest piece of content you ever wrote?
An article on "How Kids Playing Bingo Would be the First Step on Their Tourney to Winning a Nobel Prize." But having seen a documentary on kids in the Spelling Bee competition and what their parents put them through, this may not be a far-fetched as I thought it was.

Do you have a favorite local (or secret) spot in Jerusalem?
My favorite local spot would be San Simon Park. We live close to it and I love taking the girls there and taking in its bucolic charms. I love nature and this is a beautiful park that's nestled in the middle of suburban Jerusalem. It's not a secret though – on Shabbat afternoon it's the place to see and be seen.
Any interesting hobbies or talents that we should know about?
I love to play board games especially backgammon, trivial pursuit and Settlers of Catan. I am a member of the champion Pub Quiz team – Achzava. I like to cook, especially when having bought the ingredients in the Shuk. I used to love watching American Idol but stopped once Simon left.
What's your power animal ?
Bull (I'm a Taurus.)  Coincidentally, this is also my Patronus.
How much coffee do you drink a day? What would u be prepared to do to get one in the morning?
Three cups. I would get on a plane to Colombia and bring back some beans. Then, go to the supermarket and get some milk. For some reason, the second one typically proves to be the bigger obstacle.
What person would you want to meet from history?
King David – to me he was the ultimate leader. Would love to glean some insights from him and ask him if it really is good it is to be the king.
How did you end up in SEO?   I moved to Israel and wanted to work in an industry where English was an asset. Apart from that, spending all day on the internet makes it a natural fit.
Whats your favorite piece of technology that you own today?  Whats your favorite from the past?
I am not an early adopter of technology. I don't own a smartphone and the only Apple product I have is a Granny Smith.  So, favorite piece of technology I currently own is the TV Remote Control.  From the past, my favorite would be the fridge.
You use alot of analogies.  Which ones do you find are most effective?
The ones that are the most effective are the ones that will best relate to the audience. Sports analogies are great especially in the workplace but not if the person has no idea what it means to pull stumps or to hit it out of the park.
In one sentence – what is your advice to a beginning inbound marketing person?
Be ambitious and never stop thinking outside the box.