Guest Posting Still Works – Read Why or Click Play:
[soundcloud url="https://api.soundcloud.com/tracks/221526064″ params="color=ff5500&auto_play=false&hide_related=false&show_comments=true&show_user=true&show_reposts=false" width="100%" height="166″ iframe="true" /]
Matt Cutts sent the SEO world into a tizzy when he announced quite bombastically back in January 2014 that "Guest posting is dead". After the expected uproar, Cutts toned down his rhetoric to a more realistic viewpoint, perhaps realizing that he had gone a bit too far.
And now, here we are, 20 months later. What is the state of guest posting? Is it still allowed? Recommended? In the year 2015, thanks to a few tools, some common sense, and experience, the SEO world seems to have settled into an understanding of how to safely and successfully utilize guest posting. Let's start with the eye test.
The Eye Test
When looking at any website, the eye test is still probably the most useful tool we have. Sure, it's subjective, but any website which looks shady is not where you want to guest post. Take a look at my article on how to spot spammy looking sites to disavow. Now take the tips and pointers from that article and crank them up a few notches, since we are not only looking to avoid sites that are spammy, but also sites that offer no value. Those are the ones that would be wasteful to use for guest posting.
Moz Metrics

The metrics provided by Moz are not necessarily definitive, but definitely offer a quick and easy to digest metric on whether a site has value. Look at the ratio of inbound to outbound links. If a website is publishing way more links than those that it is receiving, then the site isn't worth guest posting on. Although having more outbound than inbound links does not necessarily make it a spammy site, it is highly unlikely that any links acquired from guest posting on that site will offer much value. And if theyre not offering value, then why take even the slightest risk that the website might end up hurting you in rankings?
MozRank and MozTrust are nice metrics to look at but should not be used as sole quantifying scores for a website, as every site offers its own value which is not always captured via link metrics (contextual relevance or a brand new page).
Can Anyone Write for Them?
One mild red flag is if a website has a big shiny button which says "Submit Article" or a more benign version like "Write For Us". While the former is certainly more spammy than the latter, both are immediate flags of sorts to indicate that links from this website are not the highest quality. To be fair, if a website has a big "Write for Us" button, I would not disqualify them as a guest posting opportunity. In fact, if the website is very relevant to your niche, and the overall ratio of inbound vs outbound links is respectable, then I'd probably recommend a guest post simply for the goal of referral traffic and visibility in a niche community that is relevant toward your website's business.
One minor note which should be obvious to anyone with guest posting experience – it goes without saying that any website which does NOT have editorial review for an article or blog post submission should definitely be avoided. Though I'd venture to say that this type of site probably won't pass the eye test nor the Moz metrics test.
Get in Line to Guest Post
Another interesting number to keep an eye out for: how many people actually guest post for the site? Scroll through the blog and take a look at the last 10 or 20 posts. If you see many guest posts, you might want to be wary, because this means that there isn't much original content on this site, and you can be sure that Google is aware as well. While there is no hard number in terms of percentage of blog posts which are too much, I'd venture to say that if over 1/3 of the posts on a blog are guest posts, then I'd probably avoid it. (I will repeat though – I would avoid it from a link equity perspective, but if the website is a very relevant niche and the eye test and metrics are acceptable, then by all means consider using it for referral traffic in the B2B sense of hoping to get low in the funnel readers seeing your brand).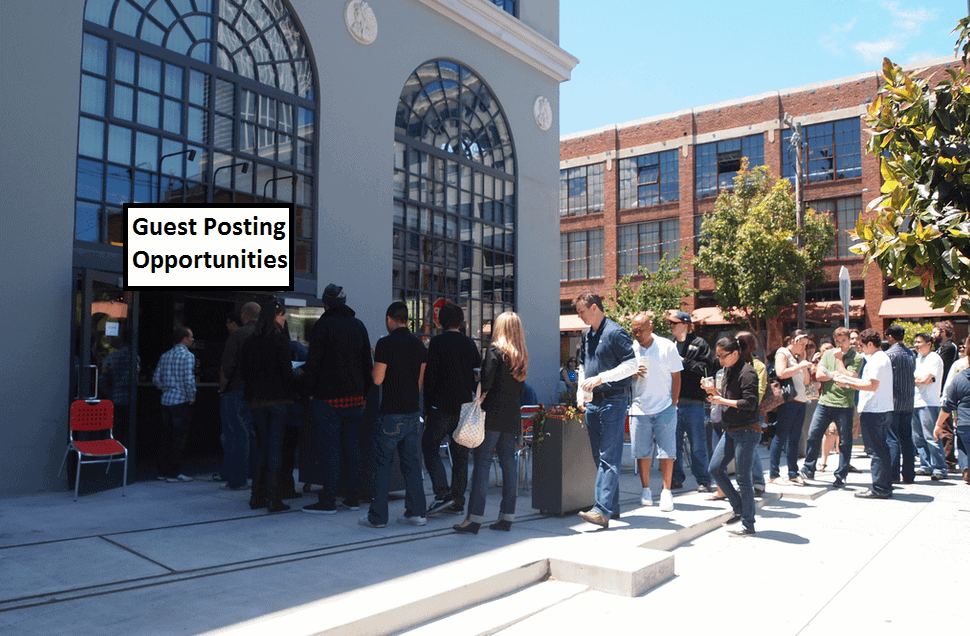 Friend or Foe
This might sound silly and perhaps a result of my neurotic nature, but be sure to avoid a competitor's website. Sure, they may have had guest posts in the past, and they may have a high domain authority and are ranking well for industry related terms. But they likely won't accept or even acknowledge your very sweet offer to guest post for their site, and in pitching them you are both exposing one of your SEO and inbound marketing strategies as well as giving away content ideas.
One and Done
During his presentation on super common SEO mistakes here at the Kahena Digital offices, Stephan Spencer talked about various methods of link acquisition. I asked him his thoughts on guest posting. While giving his answer, he mentioned one interesting element to keep in mind – don't post one and done. Meaning, don't write one guest post for a website and then never write for them again. This is because Google will immediately understand that you are doing it purely for guest posting purposes, whereas someone who writes a series of posts, let's say 3, is providing more valuable content to the site and its community, (and of course, 3 links is better than 1).
Caveats
One final note. I've heard rumblings that any post which has "guest post" in the bio or on the page might hurt you, because it is an immediate and easy to flag signal for Google to know that you are likely guest posting for the sake of a link. Unfortunately there is no way to fully measure whether or not this is true, but the fact that this rumor exists does serve as a sobering reminder: guest posting, while okay in theory and in conservative practice, is not the best form of link building. Google is on record saying that it does not recommend it, and that the best form of link building is by earning natural links.
Now What?
My takeaway is that guest posting does serve a purpose in the form of building an audience for your brand, earning some referral traffic, and if done carefully, can improve a website's rankings and overall visibility. Just remember though, we are no longer in 2013.