Seems Like There's a Storm Coming
I'm literally fuming right now. It's 1:30 in the morning here in Jerusalem as I write these words, and my speculations from earlier today seem to be coming true.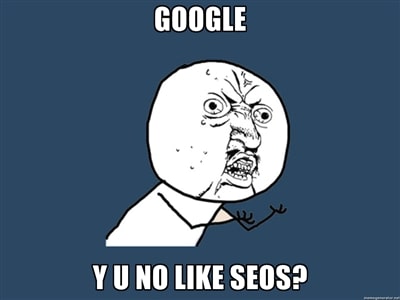 Here's the backdrop to my late night ranting: we found out a few days ago from Raven that our beloved tool for managing SEO campaigns would be losing access to Adwords data. This is a crucial part for us in how we use Raven. We use the keyword data along with rankings and analytics data to measure progress of campaigns and find low hanging fruit to target. We also use the keyword data to produce keyword projections and set client expectations based on projected growth in traffic from rankings increases,  using the various CTR studies out there.
Raven put up a message a few days back letting clients know that Adwords data would no longer be present in Raven starting Wednesday night, and a blog post was later published on the site further clarifying the situation.
My colleagues in the office assumed this was a financial thing with API costs burgeoning due to increased use, but I argued that this was something else entirely. It seemed that Google simply does not want to provide this data. Why did I think that? I must admit I'm not a paranoid hater of Google. In fact, I love Google and am often amazed at what they have accomplished. I can't wait for my new Chromebook to arrive, and I'm still amazed every time I explain to someone how Google has cached the web and has its own copy of almost all human knowledge recorded that it can sort through and organize in a matter of milliseconds.
The Bigger Picture
I think Google is waging a larger war.  A while back, I had applied for access to the Adwords API. Now I'm an SEO. I know that, and I'm not abandoning to the world of PPC anytime soon. But I wanted access to the keyword data, and I wanted to import it directly into Excel using Richard Baxter's Adwords API extension for Excel, that the kind folks at SEOGadget were generous enough to develop and give out for free. After not hearing from them for quite a while, and then filling out further information at their insistence, my request for API access was rejected. I tried to clarify why, and was told that because I did not build the tool myself, I couldn't be given access. I was pissed off, but able to move on after pulling out some of my thinning hair. After all, I was requesting to pay for data from Google in Excel that with a extra few minutes of work, I could get for free by pulling manually from the Adwords interface. I figured if Google didn't want my money, fine, Adwords is apparently a big enough cash cow that they could live without it.
But now the plot has thickened – we're learning that Google has revoked access to SEOMoz as well! For a while, the keyword difficulty tool, one of my favorite aspects of the pro membership, has had the following error message (if it was working at all):

The Moz wasn't super transparent (not very TAGFEE about this) about what the nature of the problem was, and I originally assumed this would eventually be fixed. Today, Aaron Wheeler posted in the Forum that they have also lost access to the API, and the problems with the keyword difficulty tool have been related to this problematic access for quite some time.
Who knows which other tools in the SEO space have lost Adwords API Access, or will soon be targeted by Google? I've used dozens of tools that all incorporate Adwords API data in one way or another – we can only guess who else will lose access at this point.
Where do we go from here?
Aaron mentions in his post an "alternative data source" for the Adwords data. The problem is, we don't really have one. Putting aside all of the problematic issues with the data, it's the best we've had access to, and we've certainly come to rely on it. While the data is still available from within Adwords, and with some Excel magic using vlookups (see Distilled's great guide for help on this) we can mash up rankings data with search volume quite effectively, the ease and convenience which our tools provide will certainly be lacking.
What's even more disturbing is that this happened to SEOMoz, who are seemingly the whitest of the white  hats when it comes to preaching best practices and staying within Google's guidelines. It's not as if tools specifically geared towards manipulating the algorithms are being impacted, but mainstream tools from companies in seemingly good rapport with Google. I think this does not serve as a good omen for the SEO industry, particularly the SEO tools industry. It seems as if Google is continuing down its path of animosity for SEOs, and this time they can't hide behind the claims of a user's privacy while doing so.
Please drop a comment below if you know of any other cases like the Moz and Raven who have lost access. Maybe through a popular outcry we can get it back for the tools we rely on. Or we'll just have to make due with what we have and pray to the Google gods that they are kind and benevolent towards us and offer up a few links as sacrifices on the disavowal altar to try and please them.