Synergy. It's a word that the team here at Kahena loves to poke fun at. I personally imagine a bald-headed Stephen Covey giving a motivational speech in to a standing-room only crowd in a high school gym somewhere in the Midwestern USA, preaching about how SYNERGY can change your life forever, wildly gesturing, veins bulging out of his skin. I picture an early 90's boardroom full of tense, dark suited executives sitting around a massive oak conference room table, asking each other: "WHERE CAN WE FIND MORE SYNERGY?," half of them not knowing what the term even means. In the world of business buzz words and jumbled workplace jargon, synergy rules supreme. And over here, where we try to keep things simple, we love to laugh at it.
So yeah, we make fun of fancy verbiage such as Synergy. But that doesn't mean we don't believe in it! At Kahena we deeply believe in some of the world's most constant truths: death, taxes, the need for SEO, and yes, we believe in synergy.
SEO Synergy: Putting Together a Team
Synergy, simply put, is when 1+1=3 or more. In the world of SEO, one of the most defining expressions of synergy are found in the power of a team. Teams offer substantial benefits beyond higher output.
Training: Most of us didn't wake up one day as experienced SEO's, and last time I checked, universities are not offering a bachelor's of science in search engine studies. (yet) Most of us SEOs have learned our trade from our more experienced peers, and a team provides that mentoring that can bring us up to speed to the industry's best practices. I learn best through experience, and I'm sure I'm not the only one… Learning by doing helped me much better than if I had sat and read articles and how-to's all day – even though the information is the same, the learning process is usually much smoother with a mentor.
Processes: Not all of the tasks that an SEO has to do on a daily basis are of the inspiring sort.  Like any line of work, there is an in inherent amount of drudge-work that needs to be done. Having a team allows you to spread that work around, create an assembly line, or take turns – however you decide to divvy up the work – streamlining frees up more time around the office for the tasks that make the most of everyone's best brainpower.
Keyword Research: To get your keyword research right, you need to know a little about a lot, sometimes at very short notice. The broad knowledge base that a team provides can make or break a keyword campaign. Here at Kahena, and at our other Israeli SEO peers, you can have a cross-cultural diversity that brings a certain richness in the understanding of language and semantics.  Using that collective knowledge, you can avoid misunderstandings with keyword targets.
Other Ways to Add Value: Since SEO professionals often wear many hats, and come from diverse backgrounds, they throw different ingredients into their company's "special sauce." A SEO specialist on their own can be a jack of all trades, but more likely than not, he/she is a master of none.  A SEO team might have one member who is technically oriented, who will serve as the IT and numbers guy, and another with a marketing background who enjoys talking to clients and making sales. A growing and healthy company needs strength in all of those aspects of the business, and a team can provide just that.  And when it comes to strategic partnerships and networking, each team member has their own former tribe from which to draw.
Socializing and Fun
Work should feel like work, but not all the time. We've all experienced that dreary Monday (here in Israel, it takes place on Sunday) where it seemed like time is moving like molasses, and after taking some time to shoot the breeze with a co-worker, you felt a little boost and got rolling a bit. The social aspect of work should not be underestimated. (unlike with search engine science, you can get a PHD in Organizational Behavior) Sharing a pie of pizza, or music, or joking around, or dancing on tables, helps keep the mood light and the work moving.
The In-House Option
Working In-House has some advantages.  For one, things have the potential to get implemented in a much quicker fashion.  Instead of waiting on the response to your e-mails, which if you're outsourcing, can sometimes take days, you can walk right into your colleague's office and get things fixed immediately.  As you will probably be no more than a minute's walk from your company's developers, or maybe will even be in their department, you can earn their trust and they will be more eager to implement your recommendations into the company website.  
If You're Flying Solo: A Few Tips
You may only have a few clients, or you may only focus on a very specific area of SEO, such as a Social Media, or a plugin that you developed, or you may just love the flexibility of working in your pajamas. Whatever the reason, you may be a lone wolf in the SEO world. While you can avoid some of the challenges of managing a team (which are many: overhead costs, HR, unnecessary drama and gossip, long-term commitments, etc) you can lose out on the benefits as well. Here are some tips for the SEO professional consultant for hire interested in getting more… er… synergy…  (some of these tips are also applicable to SEO teams)
Co-Working Spaces: If you don't like working at home, coffee shops are the logical alternative: they smell nice and often have good background music – just bring your laptop, connect to the wi-fi, and life's great. But, when that world-music CD is on repeat for the 3rd time in a row and you just can't stomach paying $4.50 for yet another chai latte with soy milk, you might want to consider a co-working space. They are frequented by like-minded entrepreneurial professionals who you can bounce your ideas off, and you will  find some synergies with them as well. They usually have printing facilities and funky chairs, meeting / conference rooms for hire.
Outsourcing: You can outsource part of your production, if not to a different part to your team, then to a different continent entirely. Sites such as mechanical turk, textbroker, and minute workers can do your work for you at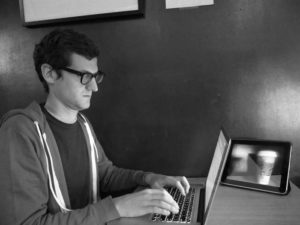 rates you wouldn't believe – just be wary of reliability issues.
Online Communities: Building a network can increase your knowledge base, productivity, and build relationships with some of the real "gurus" of the trade.  Twitter is a great way to start – start following the Matts Cuttses, Rand Fishkins and Yoasts of the world.  There are also SEO specific communities –such as SEO Moz. (who offer some indispensable SEO tools)  Also check out your local SEO groups through LinkedIN.
Drop – Ins:  If you live close enough to any of your clients, consider dropping in their offices once in a while, not just for a meeting, but to bring your laptop and use their space for a few hours to get work done.  The longer period of time together will allow you to get to know your clients better, and help you understand their work culture.  You will find that your clients will get to know you better as well, and may ask you business questions that go beyond SEO, giving yourself the chance to make them truly feel your value – a feeling that you are really their very own online marketing consultant.
So…..   There are many ways to get your synergy on, no matter which way you are set up as an SEO.  Stephen Covey would be proud.