Kicking off Kahena Hangouts!
We've been talking about doing a hangout series with some of the best thought leaders in inbound marketing for months. I'm glad we're finally kicking things off with none other than Ian Sefferman of MobileDevHQ by Tune.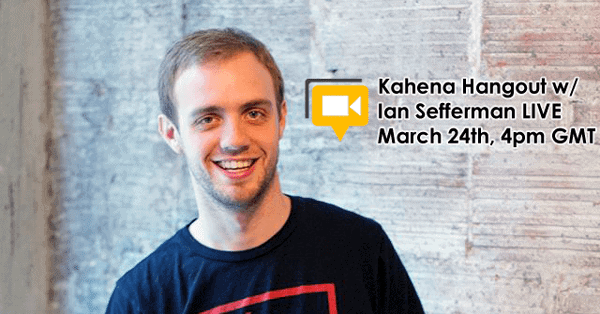 We met Ian at SMX Israel 2014 and have been super impressed with everything he touches. We're excited to hangout with Ian to ask him about the state of the ASO space and what to expect in the months and years to come!
Tune in on March 24th: 9am PST / 12pm EST / 4pm GMT / 6pm IST.
Participate Live in the Hangout
Want to join our hangout instead of simply watching? Want to ask questions live via webcam or text? Then join here on our Google Hangouts Live on Air Page for this event: https://plus.google.com/events/c8aej0f6eupnu3no4ud5gcta7r8.
Watch Live on March 24th
[youtube=https://www.youtube.com/watch?v=JlrhEaZ6UJU&w=600&h=338&rel=0]