The holiday season truly is "the most wonderful time of the year" for most E-commerce businesses. Consumers are searching for the perfect gift for their friends, family, and co-workers, people are taking advantage of the end-of-year sales, and the stores are flooded with shoppers. At this time of the year, both online and offline shopping reach an all-time high. In fact, in 2020, holiday retail sales increased by 22% year over year, despite the COVID-19 pandemic.
The months following the holiday season can be characterized as a slump. Sales usually decrease significantly, as does general traffic on E-commerce businesses. During this time, E-commerce businesses, especially those on a tight budget, need to optimize their online campaigns as much as possible in order to transition back into post-holiday life without experiencing a significant plummet in account performance.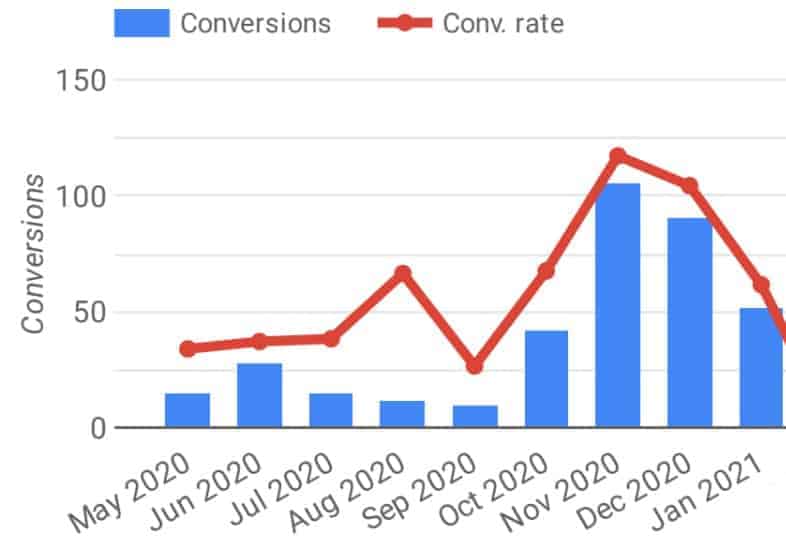 Holiday Keywords
Around holiday time, consumers search for holiday-themed items like "Thanksgiving tablecloths" and "Christmas Plates" in anticipation of holiday gifts or because they need them for the season. Due to this trend, these holiday keywords increase in impressions due to seasonal demand.
Online marketers prepare for this increase in impressions by adopting holiday-themed keywords into their Google Ads account in the hopes of capturing as many consumer engagements as possible. If done properly, these keywords can help drive more conversions and a higher Return On Ad Spend (ROAS). However, as you can see from the following screenshot from Google's Keyword Planner, the popularity of these keywords significantly decreases following their peak during the holiday season.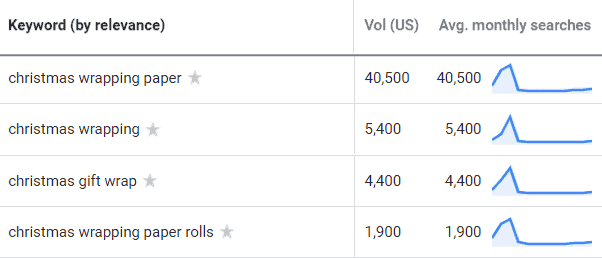 Consumers might be searching more for holiday-themed keywords, which is an important cause of the increase during these months. However, even non-holiday-themed keywords of these types experience an increase during these months which contributes to an additional increase in advertisers' accounts. Between these two factors, which are both seasonal, there is a lot to remember to compensate for at the end of the holiday season. Post-holidays, an account might be left with keywords that are no longer relevant and unlikely to convert. They also might be left with bids and strategies meant to capture the higher amount of traffic rather than what they typically optimize for throughout the rest of the year.
Sadly, there is no option on Google to schedule your keywords within an existing campaign to stop serving automatically, so, these keywords are likely to continue running and spend money until they are remembered and removed or paused.
Businesses with tight budgets can't afford to have keywords that are spending money without converting. Therefore, it is vital for these companies to disable the keywords that are no longer likely to convert and focus the budget on keywords that are profitable.
Negative Keywords & Search Terms
Adding negatives to Google accounts can be a big money saver! By adding negative keywords, we prevent ads from being triggered by a certain word or phrase, thereby preventing them from serving ads to irrelevant searchers and therefore wasting budget.
Search terms are the terms that consumers type into Google –  for example: "best pizza near me", "best deals on flights", etc. Depending on the popularity of these search terms, each click can be expensive.
As mentioned earlier, during the holiday season people search for holiday-themed terms like "Christmas cakes" or "Santa sweater". While these search terms are highly relevant during the holiday season (depending on your company), they are no longer relevant once the season is over, but they still might spend money. Therefore, online marketers should not only stop bidding on those keywords but also try and optimize their negative keyword list to include those search terms that are no longer appropriate. This is especially true of E-commerce businesses that have a limited budget. For those businesses, every dollar counts, so it is important to remove the waste from your account and focus on keywords that have the highest chance of converting.
The easiest way to do this is to create a list of things that are not relevant to your company, based on the current season, or ever, and add them as negative keywords on your account. However, there are millions of search terms that might be relevant for your business and you can't necessarily predict which ones will appear in your search terms.
It is important to periodically go through your search terms, especially following the holiday season, to see what people are searching for online and remove the ones that are not converting or costing too much. This will allow your Google campaigns to bid effectively on keywords/ search terms that are more likely to convert. As a bonus – keep track of those items as potential keywords for next year's holiday season. After all, you just made a handy list of holiday searches for which your account might show ads! Just remember to remove the negative keywords that are blocking them so that your ads will serve.
Updating Ad Extensions & Ad Copy
Ad copy and ad extensions are a great way to boost your CTR, which is a critical part of your quality score on Google. Quality score on Google can determine how many times ads are shown when someone is looking to buy an item. As mentioned earlier, many online advertisers adopt holiday keywords into their campaigns. However, adding keywords alone won't boost your CTR, the keywords need to be matched with corresponding ads in order to bring positive results. Therefore, many online advertisers create new ad copy for the holiday season with details on their holiday sales and discounts.
Following the holiday season, consumers will be searching for products online and often will find an ad with "10% off Black Friday Sale" "Final Christmas sale 50% off" etc.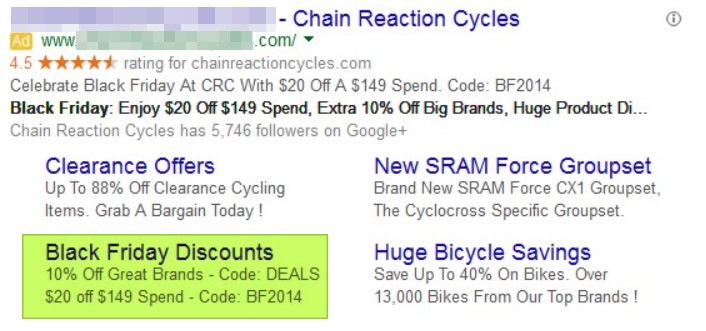 Having an ad appear that is no longer relevant can cause confusion and distrust among consumers, and it makes the online advertiser look bad. Imagine if they click your ad expecting to receive the 10% Black Friday discount, only to arrive at your website and find that the sale no longer applies.  It is important to keep your online ads consistent and up to date. This doesn't just apply to the months following the holiday season, this can be relevant for anyone who has a limited sale or has ad copy that is no longer up to date.
After the holiday madness has calmed down, it is vital that the holiday ad copies and ad extensions are removed/paused on the campaigns. The good news is that when you set up an ad extension on Google, you are able to set an end date to the extensions which allow you to better control which extensions will be seen when. However, the same can't be said for ad copy, so it will need to be updated manually.
The holiday season is one of the busiest times of the year with many sales and a great Return On Ad Spend (ROAS). But why should it stop there? With these simple tips, you can optimize your Google E-commerce account so that it continues to perform well after the holiday season and throughout the year.