Similar to Rob Lowe's character on Parks and Recreation, I like to use the word "literally" a LOT.  In this case though, I think it's warranted.
As you may have seen recently in your social media feeds, Kahena Digital Marketing is proud to present KahenaCon 2013, the second installment of its inbound marketing conference scheduled for Sunday, May 26th in Jerusalem's JVP Media Quarter.  Just in case you're on the fence about your attendance (hint: you shouldn't be), I thought I should tell you a little bit more about what KahenaCon has to offer.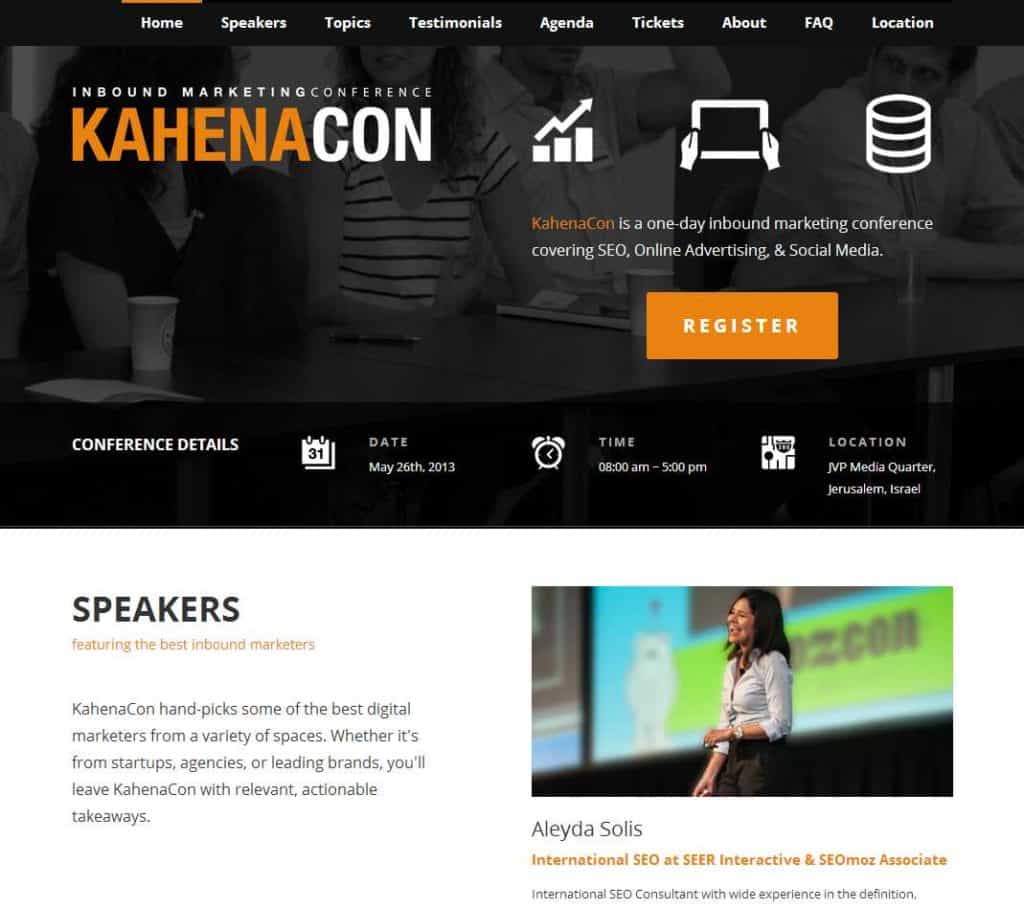 1. Tips & Best Practices for Numerous Channels
KahenaCon is a one-stop shop for tips and best practices in every major area of digital marketing: SEO, SEM, Social Media, Multi-Channel, Mobile optimization, KPI's/metrics, and more.
2. Engaging Speakers
No Angry Birds necessary.  We have a star-studded lineup of industry experts scheduled to present to us, including SEER Interactive's Aleyda Solis and Distilled's Tom Anthony with a few speakers yet to be added to this already impressive list.
3. Like A Candlelit Dinner
Well, maybe not *that* small, but the conference is smaller than other industry events.  It avoids the overwhelming feeling you get from larger conferences in favor of an intimate vibe where you can really learn and ask the speakers the questions that you want answered.
4. Cheaper Than The Streisand Concert
There won't be any singing, but tickets are inexpensive.  The super early bird discount is only available until April 19th.  After that, the price goes up 25 shekels per ticket until May 16th, at which point only full-price tickets will be available for last-minute reservations at 200 shekels each.
5. Networking Opportunities Abound
KahenaCon presents an awesome opportunity to network with other kick-ass online marketing professionals.
6. Get Yo' Grub On!
Did someone say American style bagels, shmear, and tuna salad?!
7. Make (Your Boss) More Money
Bottom line: KahenaCon 2013 is an event you simply can't afford to miss if you're serious about succeeding in today's complex marketing landscape.  Whether you work for an agency, work in-house, or just want to increase the exposure of your own venture, KahenaCon will help you kick your campaigns up a few notches.
I hope I did a good job convincing you how important this conference is for your marketing success in the next year.  If so, I'll see you there!