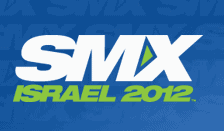 Whether there was hype leading up to SMX, I don't know, but the event itself did live up to my own expectations. This was my second interactive marketing conference, the first being Wordcamp 2011 (see my coverage here) We kept track of the event with our live blog, but for those short on time looking some takeaways and reflections, here's a sampling:
The Speakers
The speakers were informative, clear, and sometimes, very funny.
Some of our favorites were: Mike King (@ipullrank), Marty Weintraub (@aimclear),  Miriam Schwab (@miriamschwab), and Gil Reich (see his list of the day's best quotes here).
Having quality speakers from outside of Israel really takes the conference to the next level and puts Israel on the map of search marketing conferences.
The Diversity of the Crowd
Leave it to Jerusalem to showcase the true diversity of the online marketing world – people from all walks of life – of all shapes and colors, etc.
The Little Things
The Inbal was on top of their game – it looks like they've hosted a conference or two before. Plentiful internet hotspots, extra chairs when the rooms got crowded, and a spectac
ular five star buffet lunch. Essentially, all the things necessary to make sure that the conference was defined by its content and not by the venue itself.
B2B Environment
For all of the SEO Agencies and providers, there were lots of competing parties – the crowded hallways did not seem to have as much of an entrepreneurial vibe as Wordcamp did. That isn't to say that there were any "West Side Story" style showdowns between rival SEO agnecies next to the coffee table, but it did not have the feel of a wide-open feel of a full-on networking event.
Don't Be Evil, Google!
The SERP (search engine result page) scene from Google has always been changing – so their updates such as Search Plus Your World and Panda are not necessarily spoken of with resentment – Panda specifically is a good wakeup call to many for remembering that real people like fresh and real content. However, the notion that Google is being unfair in their current practices is now coming to the forefront. The most common claim is that Google SERPS are showing Google Plus results on top of the far more relevant traditional organic sites, or even Facebook or Twitter results. The general feel was that Google is here to stay, and if we don't like it, we still have to deal with it.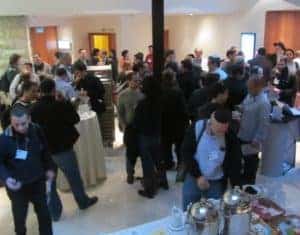 The security holes that one can have on their mobile device is terrifying – Black Hat speaker Ziv Dascalu showed a whole list of the audience's Gmail passwords (thankfully partially starred out) and reminded everyone just how careful they have to be. (All it takes is one Gmail account to access a webmaster tools account and then wreak chaos on all of the websites managed by that person's google account).
So – There are a few thoughts – looking forward to the next conference! Share your comments below.