Kahena Interview IX – Matt McGee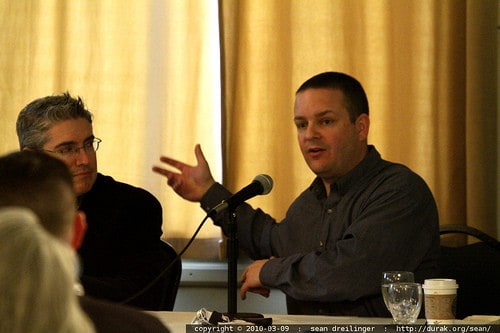 There is much more to Matt McGee than being the Executive News Editor of Search Engine Land. He is the inspiration and creative genius behind U2 fan website atu2.com having created it back in 1995. In addition to that he does independent online market consulting at smallbusinesssem.com. In a previous life he was a sports director at a TV station and talk show host. He is one of the great guys of the SEO industry and its our pleasure to be able to speak to him.
Being in news, makes you better at anticipating things. Where do you think the SEO industry will be in 2 years time?
I'm not sure that I agree with the premise that news makes me better at predicting the future, but I don't expect the industry itself to be dramatically different in just two years. I think some of the smarter agencies and consultants are recognizing that the landscape is changing these days, and maybe a lot of the low-quality tactics aren't going to work moving forward, and so they seem to be — should be — changing the way they do things for clients. I suspect that will continue to change as Google clamps down even more on questionable tactics.
But I suspect there will still be a lot of bottom feeders in the industry doing poor work for clients that don't know any better. I don't think that will go away in just two years, if ever. The industry is very reluctant, hesitant, fearful, etc. of trying to develop any kind of standards for business practices, and any kind of formal licensing/certification, so the door will remain open for anyone with an internet connection to call themselves an SEO.
Have you ever thought about working full-time on something related to U2?
Of course! Who wouldn't want to follow them around as part of the tour staff and maybe be their social media manager or just document the whole thing from start to finish through a fan's eyes? But I'm certainly not holding my breath for anything like that. Plus, I think I'm too old now to live even for a couple months as part of a rock tour!
When there are so many SEO news outlets ie sites, blogs, twitter – how do you stay on top of things and how do you avoid drowning?
I have come to love Twitter lists. I don't follow a lot of accounts, but I do have a lot of industry-related accounts in various lists. And Tweetdeck — the old version, haven't downloaded the recent upgrade yet since I've seen some friends say it's not great — makes it easy to manage and track my Twitter lists. I also keep an eye on RSS as much as possible and, at Search Engine Land / Marketing Land, we send a lot of emails back and forth to discuss the day's news. That's the real answer to your question — with a team of several smart and well-connected people, it's easier to avoid drowning and stay ahead of things.
Have you met the members of U2? What are your impressions of them?
I have not met them and I try to avoid meeting them in the typical band-fan scenario, like autograph signings before after a concert. If/When I meet them, I want it to be something like an interview situation where it's a more level playing field.
You can invite any 8 people (living, dead, fictional) to a dinner party – who do you invite?
My wife and kids, so there's three. Jesus. John Wooden. Steve Jobs. That's six. I prefer smaller, more intimate meals, so that's all I'd want to invite.
What are the five most memorable SEO stories you've written?
Hmmmm. I'm not sure how I'd judge the memorability of something. The interview I did with the Google Search Quality Rater earlier this year was talked about a lot. My SEO Success Pyramid story/graphic is several years old, but still gets talked about and it's definitely one that I found memorable just do the length of time and effort involved.
The ones that I find memorable are probably not what other readers found memorable! I tend to remember the ones that were either amazingly difficult or amazingly easy to write. For example, I remember very well an article that I did for Small Business Trends called "If I Were Launching a New Small Biz Web Site Today" because I wrote the whole thing on an airplane.
What are your indulgences??
Cheeseburgers. Ice cream. Pixar movies. Almost anything that airs on the Food Network.
How many U2 concerts have you been to?
Not sure. I have a hard time remembering which shows I was at 20+ years ago. I think the total is 31, but that might be off by a couple in either direction.
What has been your biggest mistake to date and what did you learn from it?
I've made the same huge mistake a million times, and it usually involves some form of trusting myself more than God.
What does a typical day of yours look like?
I'm a night owl, and tend to be online until the minute I go to sleep, and I occasionally schedule some tweets for the morning hours while I'm still asleep … so it may look like I'm online around the clock, but I'm definitely not!
My typical day is pretty boring, I'm afraid. I usually wake up between 8-9 am, and by the time I shower, eat, read the paper and get through email, it's probably 10 am. At that point, I'm emailing back and forth a lot with the rest of the Search Engine Land/Marketing Land team, figuring out what news still needs to be written. I keep an eye on various Twitter lists and RSS feeds to stay on top of the day's news. We're usually an early-dinner family, so I'm offline again by about 5:00 or maybe 5:30 pm, and then it's family time until about 9:00 pm or so. That's when I get back online to catch up on work and other projects, and I'm usually online until about 1:00 or 2:00 am.
Away from work, how do you like to relax?
We just moved into a new house, so my preference now is to sit on our back patio and watch the sunset. We're blessed with a beautiful view that looks west. Beyond that, family time in or out of the house is my favorite way to relax — movies, shopping, or just sitting around together and chatting.
Given the demands of your positions, how do you achieve the balance between personal and business?
I don't achieve it all that well sometimes. The thing I've tried to do while working from home is to have clear limits and do everything possible to separate work time from family time. Even little things like announcing in the morning that "I'm going to work" before I walk into my office, and announcing "I'm home from work" when the day is done — I think that helps, at least mentally, to separate the personal and business stuff.
But I'm blessed to work with a team of people that understands it's not good to work constantly. I think everyone on staff at SEL and ML has spouses, families, etc. It's not a problem if someone needs or wants to get away for an hour or two in the middle of the day. We all cover for one another. That approach makes it easier for all of us.
Who are your heroes in fiction and real life?
I don't really have heroes. We're all human. There's no sense putting anyone else up on a pedestal like that.
There are people, however, that I really admire a lot. Outside of people like my wife or my parents, John Wooden is probably the person I admire the most. He lived his life in such a way that I aspire to live mine — with compassion, discipline, wisdom and, most of all, love. I first started paying attention to him in my college years, and it would be tough to underestimate the impact his Pyramid of Success, his books, etc., have had on me.
How did you feel about how Lost ended?
Oh, wow … I remember being less than thrilled with it. But I'm not sure what ending would've made sense and lived up to everyone's expectations. It was still the best TV show I've ever seen.
Which is your favorite Pixar film and why?
This is the toughest question of all to answer!! I think it has to be Toy Story 3. It was Wall-E for a while, but with my kids getting older now, Toy Story 3 really hits me close to home. It's so perfect. I can't watch the last 15 minutes without turning into a crying, blubbering fool.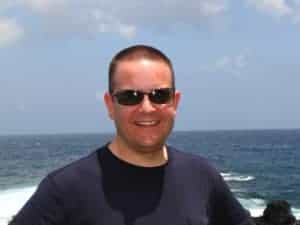 What are your favorite sports teams?
I've lived in Washington state for close to 20 years now, so I'm pretty entrenched with the Seattle sports teams. I love the Seahawks and Mariners. Don't really pay attention to the NBA much. At the college level, I'm all about Notre Dame. My aunt was an adjunct professor there (she even taught Joe Theismann) and several of our neighbors growing up also had ties to Notre Dame.
What do you think will happen to hyperlocalblogger.com? Looking back would you have done anything different with it?
I should've brought on more writers to help carry the load. It was always a side project for me, and as long as that was the case, it was never going to grow into the community/resource for small, local bloggers that I hoped it would be. So I screwed up on that one. I also screwed up in misreading the opportunity. My initial approach was that it was about helping small/local business owners learn how to attract local prospects and customers via blogging. But what happened in the industry is that hyperlocal blogging became less about that and more about local news — people covering the neighborhood news that wasn't being reported by mainstream newspapers, radio and TV.
What will happen to it is that one of these days I'll migrate the best content from it to my main SEO blog – SmallBusinessSEM.com and then shut it down.
Thanks for your time
You're welcome