We welcome Ari Roth to the ever-growing Kahena team. Apart from his larger than life personality, Ari brings great energy with him. Ari is a very passionate person – you only have to look at his face to see if the Yankees have won or not. Now an experienced SEO practitioner, we are looking forward to moving forward together with him. He is a great addition to the Kahena Digital clubhouse and excited to have him on board. There is more than meets the eye to Ari so without further ado, we bring you Ari Roth.

When you first heard about Kahena, what did you think a "Kahena" was?
Honestly, I thought it was pronounced Ka-HAY-nuh at first, and was the transliteration of the Biblical Hebrew word meaning "so on and so forth" (Samuel II, 12:8). I wasn't sure what the tie-in was with SEO/Digital Marketing, but that's what I thought. When I first got here, I was promptly re-educated in the ways of the Kahena 🙂
Any favorite bands, TV shows, books, movies?
Well, that's really 4 questions, so this one might run a bit long. My taste in music is varied. At any point, you can find me enjoying anything from rap, hip-hop, and 80's rock to sappy Jewish music, depending on my mood. I am an absolute TV junkie. According to my favorite torrent site, I'm following 27 running shows at the moment. If I had to choose, my favorites right now would be (in alphabetical order because I can't actually choose between them): Boardwalk Empire, Game of Thrones, Homeland, Modern Family, Parks and Recreation, Revenge, Scandal, and The League. As far as movies, my friends always make fun of me because I haven't seen a huge chunk of movies that everybody else in the world seems to have seen (like the original 3 Star Wars, The Usual Suspects, etc). Though I don't watch a ton of movies, I'm not picky. Anything that can keep my attention for the duration of the movie and make sense at the end gets my vote. I'm also not much of a book reader, but my favorites include Harry Potter, The Hunger Games, and anything by Malcolm Gladwell.

Do you have a favorite local (or secret) spot in Jerusalem?
The new walkway on the old train tracks off of Emek Refaim is a great place for a relaxing walk if you're ever in the neighborhood. When I decide to walk home, that's the route I take.

If you weren't working in SEO and could be anything you wanted, what would you be?
I'd be either a professional athlete or a sports broadcaster, probably the latter. I actually was a sports broadcaster for 4 years in college for www.macslive.com, announcing games for the Yeshiva University basketball team and the annual Red Sarachek high school basketball tournament that featured the best Jewish teams in the United States and Canada. I loved feeling like Marv Albert or Gus Johnson for a couple of hours, and I love sports, so it was just awesome.

What person would you want to meet from history?
I think I'd have to go with Moses. Judaism has splintered off in so many directions as time has passed, and I'm curious to know which branch is closest to what G-d intended.

What is the #1 destination on your travel list?
Anywhere I can go jet-skiing. I've been craving a jet-skiing outing for many years now, but it just hasn't happened yet. Office outing, anyone? 😛

What was your first CD/ tape?
I listened to a lot of sappy Jewish music when I was a kid, so I think it was probably "Higher & Higher" by Yehuda! (It's like Yahoo! in that you can't forget the exclamation point) If we're talking real music, then I think it was "Europop" by Eiffel 65. I was OBSESSED with that "Blue" song that went whatever viral was called back in the '90s. And yes, I was a giant loser back in the day!

What is your favorite YouTube video?
Absolutely no contest on this one. I get pumped up every time I watch this video. Just cut to the 0:30 mark for the start of the real action.
Role models
I'll go with my brother, Noah, and my best friend, Tzvi, because they are two of the hardest workers that I know.
Something about you other people don't know
I once had to go to the emergency room in Palm Springs to have my eye drained because a piece of fur from a magician's rabbit got in my eye and it tripled in size!

Favorite soup
French Onion from Tel Aviv Pizza in Chicago. Simply delicious, though it's not the cleanest restaurant ever, and everything else there isn't great.

Favorite cartoon character
That's a hard one because there have been so many excellent cartoon characters over the years. I think I'll go with Stewie Griffin from Family Guy. There's something about a talking baby supergenius bent on world domination with a British accent that just cracks me up every time.
Best piece of advice you've received
Think before you speak. I'm a big talker and tweeter @aroth26, and sometimes we all go a bit too far. Still, the amount of crazy things I say these days is nothing compared to the way it was in college! 🙂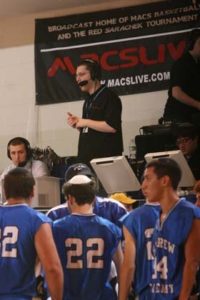 How did you become such a crazy sports addict?
This is a deep psychological question here. I think it became a bigger deal to me because I grew up a New York sports fan (Yankees, Giants, Knicks, Rangers, Syracuse University basketball) in Chicago. When my teams won, I'd get to walk around with chest puffed out at school the next day. When they lost, the next day was tough, because the other kids would remind me of it. Because of this, every game took on added significance. Believe me, it was no fun being a Knicks fan in Chicago during the Jordan years, but the Yankees helped a lot! 🙂