We here at Kahena work with several enterprise retail ecommerce brands using Demandware (re-branded as Salesforce Commerce Cloud just a few days ago). What makes this platform unique is that it is cloud-based, hosted externally. One advantage of a cloud-based e-commerce platform is if a bug or issue is found on the platform or if a feature enhancement is built for a specific client, Demandware can push the upgrade or push live to all platform users without the hassle that often comes with other platforms (customization, expense, etc). However, as we've just seen, can also cause issues when brands are not prepared for the changes.
Yesterday, on October 18th, Demandware pushed a new upgrade live which includes updated XML sitemaps that "adopt the latest SEO best practices to improve the crawlability of site URLs." However, the URLs for all of these sitemaps changed without proper redirection and as a result,  the current XML sitemaps were returning a 404 error! We found this for our multiple clients on Demandware.

What happened and what is this new update?
When we took a look, we found that they created an XML sitemap index that contains the multiple sitemaps often found on large retail sites. While a sitemap index might be a standard practice, they neglected to let their clients/users know and it seemingly rolled out overnight. This could lead to serious indexation and crawlability issues – having a knock-on effect on rankings, search engine traffic, and revenue.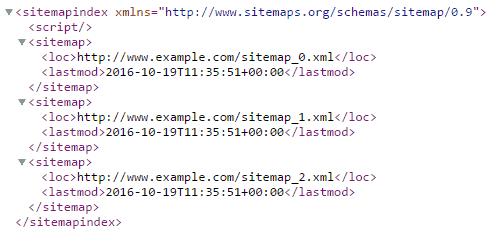 This is similar to the XML sitemap index featured by Yoast on WordPress sites. Google only needs to crawl this in order to discover the rest of the sitemaps.
So how do you fix this sudden sitemap URL change?

Update Robots.txt:

 You may have noticed that the URL for the sitemap changed with this update. This means that the sitemap in your robots.txt file is incorrect since it is the old URL. Make sure that you update it to the new sitemap index URL. Keep in mind that you only have to include the sitemap index and not the others.

Submit Sitemap to Search Console:

To ensure that Google indexes your URLs properly  without missing a beat, make sure to submit the new sitemap to Google Search Console. As mentioned above, you only have to submit the sitemap index since Google will be able to discover the other sitemaps through the index.

Customize Your Sitemap:

One of the new features for these Demandware Sitemaps include being able to customize the sitemaps. You can have one sitemap that is just products and another that is just categories. This may not have any SEO benefits but could help from an organizational standpoint.
We can't help but wonder if there's any correlation between Demandware being bought by Salesforce (and rebranded Salesforce Commerce Cloud) and this recent hiccup. Our advice: always keep an eye on the updates that Demandware push live so you aren't caught off guard on the next big change.